Founding Principles
Professor Juen Sato, the school's founder, used the principles of "Shu," "Shi" and "Shin" to promote the spirit of this institution. "Shu" (Sovereign) expresses responsibility to society, "Shi" (Teacher) expresses an attitude of sincere learning together with the teacher and "Shin" (Parent) expresses gratitude to family and others who provide support for one's life. Mejiro Gakuen is a spiritual community founded on teachers who resonate with the spirit of this institution. Students and pupils obtaining a deep understanding and practice of this spirit will build the foundations for surviving in this incessantly changing modern society.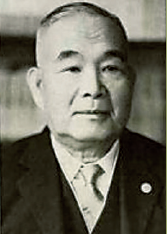 Juen Sato (1887-1964)
Born and raised in Nobeoka, Miyazaki prefecture, Juen Sato graduated from Tokyo Imperial University Law School. In 1923, he invested his own funds to found Kenshin Gakuen (predecessor to Mejiro Gakuen). Even while passionately engaged in school administration, he also found time for government service, with four terms in the House of Representatives that included service as chairman of the Standing Committee on Finance. He was also a recipient of the Blue Ribbon Medal of Honor. For outstanding achievement in education and government service, Juen Sato was conferred the Fifth Rank, and awarded the Order of the Sacred Treasure 3rd Class.