Mejiro University College

Mejiro University College which was established in 1963, has always used small-group education to develop young women with a good balance of well-rounded education combined with specialist knowledge and techniques, to prepare them to be active contributors to society. The college also puts effort into linking education directly to the acquisition of qualifications and experience, using diverse learning situations suited to each student's interests. A unique feature of the college is its flexible curriculum which allows students to select subjects beyond the department or field of study. The college offers students support for growth and broadening possibilities while acquiring three strengths, with the strength to continue lifelong learning as the foundation for the strength of practical skills and the strength to give back to society.
---
Message from the University President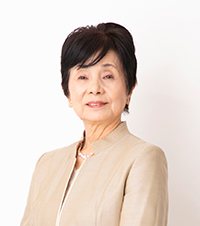 Sumiko Yutani
President of Mejiro University College
The Mejiro University College embraces an established tradition extending back more than 50 years. Faculty and staff educate students based on a shared understanding that they will send out "independent women" into the society. Education is based on the "ability of students to think for themselves" and teaching constantly imbues the "maintenance of a spirit of critical thinking." Although the college is small, it is continually reforming, never content with the status quo as faculty and staff are always sensitive to signs indicating a new era. I hope that the college is a place of learning where all continue to grow along with the student body.
---
Department
Department of Confectionery Arts

The Department of Confectionery Arts, the first of its kind to be established at a junior college in Japan, offers acquisition of techniques and knowledge in Western and Japanese style confections and in bread-making. The curriculum is assembled in stages from basic to applied, and students learn the cultural and historical background of confectionery-making as well. The latest professional equipment is used for acquiring the skills of confectionary. Study also extends to learning about theories of food hygienics, display methods and customer service manners, with an emphasis on learning communication skills. The department also places emphasis on industry-academia collaboration, internship programs and simulative leaning such as selling the pastries, Japanese confections, and bread which are made on-campus. The department has also established the Confectionery Hygiene Master Course with the objective of students acquiring national certification. Students receive instruction in the maintenance of confectionary safety and hygiene with the goal of successfully passing the Confectionery Hygiene Master Examination. After graduation, they can expect to be active in a wide range of, including patisseries and food-related industries.

Department of Business Studies

This department incorporates numerous seminars and teamwork activities to develop "flexible women" able to play an active role in a wide range of fields, including finance, trade, manufacturing, health, distribution, retail, food services, and the travel, bridal and hotel industries. Students can also acquire the basic abilities and common sense required of a full-fledged member of society in the business world, while mastering the practical and theoretical skills that will be of use. In compulsory subjects that teach business manners and provide a broad general education, students build a foundation for active participation in society; while specialized educational courses allow students to pursue their interests in four fields, namely Secretarial Administration and Finance; Medical Secretarial Administration; Fashion and Café Business; and Tourism, Hotel and Bridal Business.Upon completion of these unique specialized educational courses, students aim to obtain professional and advanced certification in their respective fields.

Department of Dental Hygiene

The Department of Dental Hygiene is the only dental hygiene department in the 23 wards of Tokyo that is located on the campus of its affiliated university. The department equips students with the necessary foundation to serve as dental hygienists, while helping them refine the core skills needed to function as members of society. Students acquire the highly specialized knowledge and techniques of dental hygiene in such fields as Preventive Dentistry, Dental Health Guidance and Dental Care Assistance. Making the most of its university status, the department cooperates with the various departments of Mejiro University in the fields of psychology, social welfare, health sciences and nursing, enabling students to pursue more specialized studies. In the course of acquiring a wide range of knowledge and working within a comprehensive community care system, students are able to learn about team healthcare with cooperation across multiple disciplines, which will be needed more and more in the future.Students who complete the three-year program are awarded an associate degree in dental hygiene, and are eligible to take the National Dental Hygienist Examination to qualify as a dental hygienist.