Message from the Chairman of the Board of Directors, CEO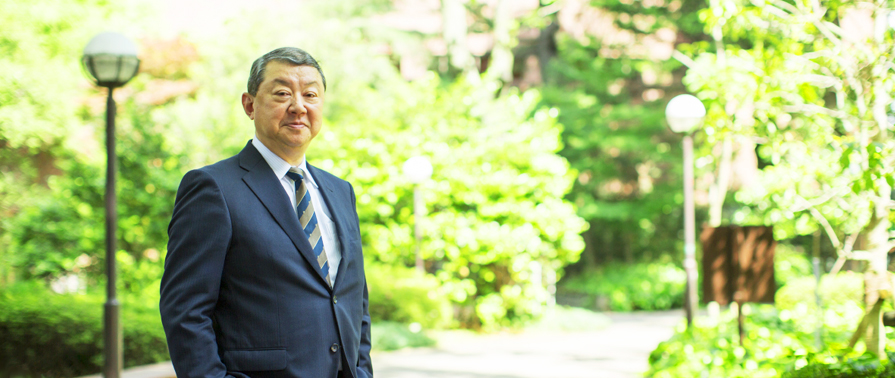 Chairman of the Board of Directors, CEO of Mejiro Gakuen Educational Foundation
Haruki Ozaki
Mejiro Gakuen was founded in 1923 as Kenshin Gakuen on an elevated location in the Shinjuku area of Tokyo known as Mejirodai. Since then, 98 years has elapsed and Mejiro Gakuen has grown and undergone bold changes, particularly during the past 25 years or so with Mejiro University at its core, developing into a comprehensive educational and research institution with a junior high school, senior high school, college, university, and graduate school, serving approximately 7,000 students.
At Mejiro University, education is offered particularly focused on the humanities at the Shinjuku campus, and on the health sciences and nursing at the Saitama Iwatsuki campus. The university continues proactively working to improve its unique educational strengths to make the most of the close relationships between its students and teachers which brings out and stretches each student's capabilities, while handling challenges in new educational sectors in order to cultivate and send out the human resources society demands.
At Mejiro University College, the Departments of Business Studies, Confectionery Arts, and Dental Hygiene respond to society's needs and young women's interests, and the college uses small-group instruction to develop young women with a good balance of liberal education and specialist knowledge and techniques.Furthermore, twelve years have passed since Mejiro Kenshin Junior and Senior High School, which was founded at the same time as Mejiro Gakuen, became a coeducational school. It strives to enhance and deepen the English language education and global education that have been offered from when it was an all-girls school. The school is also deeply committed to developing activities utilizing the advantages of having a variety of courses and a class grouping system, and to nurturing a lively school atmosphere.
The conditions of the society surrounding Mejiro Gakuen are expected to change even more rapidly and grow increasingly complex. Under such circumstances, Mejiro Gakuen will continue its efforts so that the young people enrolled will be able to learn the unyielding spirit of the institution "Shu," "Shi," and "Shin," set forth by the founder (that is, the spirit of "Proactively contributing to the country and society, having an enthusiastic attitude towards learning, together with one's leaders, and expressing gratitude toward the people who provide support for one's life") and acquire the motivation and capability required to survive the difficult times that they will face in the future.
---
Profile

Born in 1953
Graduated from the Faculty of Law, The University of Tokyo, and entered the Ministry of Education, Science, Sports and Culture (now the Ministry of Education, Culture, Sports, Science and Technology).

Career Highlights

Day Care Division Director (Ministry of Health, Labour and Welfare)
Financial Affairs Division Manager (Ministry of Education, Culture, Sports, Science and Technology - as are all positions below)
Minister's Secretariat Policy Division Director
Deputy Director-General (Sports and Youth Bureau)
Deputy Director-General (Elementary and Secondary Education Bureau)
National Institute for Educational Policy Research Director